This isn't entirely writing related, but I wanted to write a full description of Max's surprise birthday weekend, and a facebook status update just wouldn't cut it.
In advance I told him that he needed to take off a day from work on Friday so we could head out on Thursday night to parts unknown. When he saw that we were flying into Northwest Arkansas Regional Airport, he was a bit surprised, to say the least.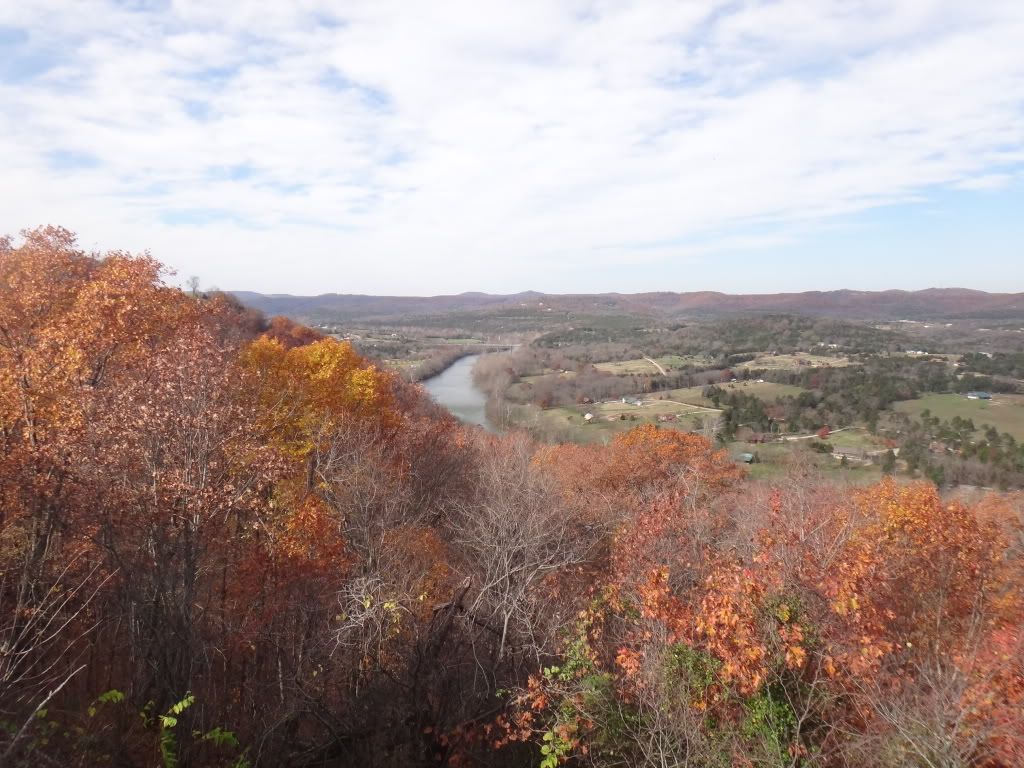 (It might not be famous, but it is beautiful.)
Northwest Arkansas doesn't exactly fit the schema for dream vacation destination, but as our rental car approached Eureka Springs, Max quickly figured out where we were heading. I'd visited Eureka Springs with my best friend Michelle a couple of times because it's not too far from her house in Springfield, Missouri, and I'd told him how much I'd enjoyed it.
Eureka Springs is a town of contrasts. Hippies and Jesus Freaks live happily side-by-side in this small town that looks more Old West than Ozarks.
(One of the town's two main streets. It's not a huge place.)
(Park in center of town.)
In one shop you'll find a sign that says "Let your freak flag fly," and right next door you'll find a sign that says "Let your freak flag fly...somewhere else." [That's not a metaphor. We actually saw both of those signs.]
You can see a show with a medium that claims to be able to speak to the spirits, or you can see a passion play performed right next to the largest statue of Jesus in North America.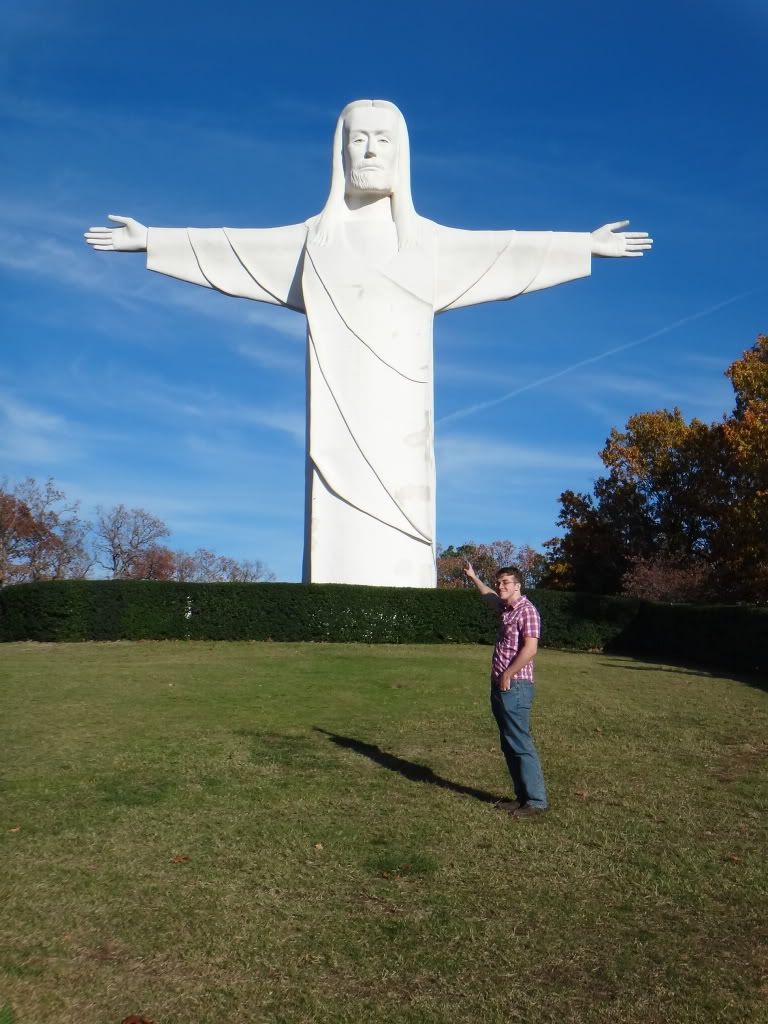 (His official name is "Christ of the Ozarks" although some call him "Milk Carton Jesus." I'm not sure which name is more offensive. Also, the grassy hill actually makes him look smaller than he is. In fact, this statue is 7 stories high.)
When we pulled up to our rented tree house, Max was met with balloons, a birthday cake, and champagne. Even though we were in a tree house, we definitely weren't roughing it. It was pimped out with a hot tub, fireplace, and flat screen.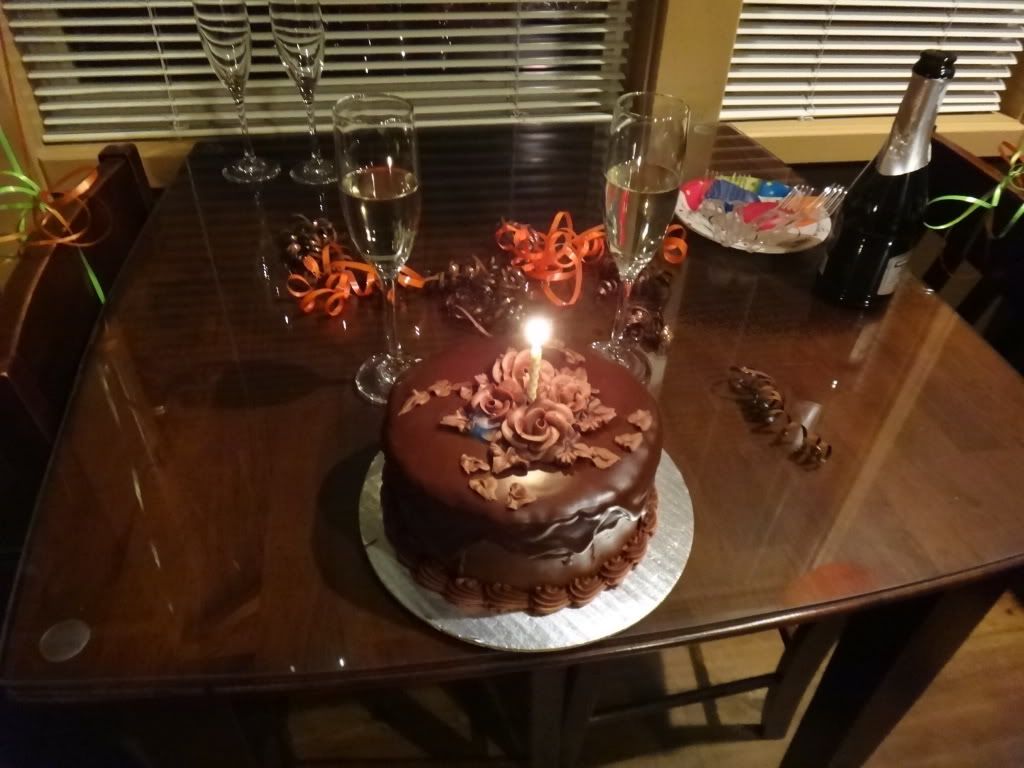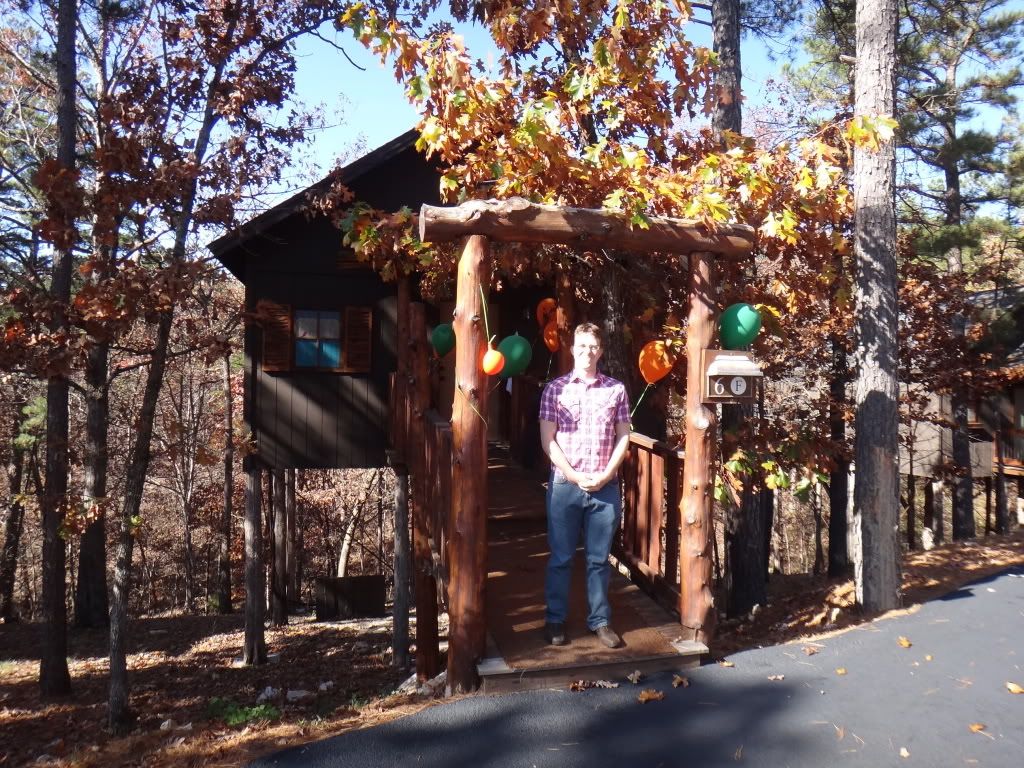 (It was dark when we got there, so this is a picture from the next day.)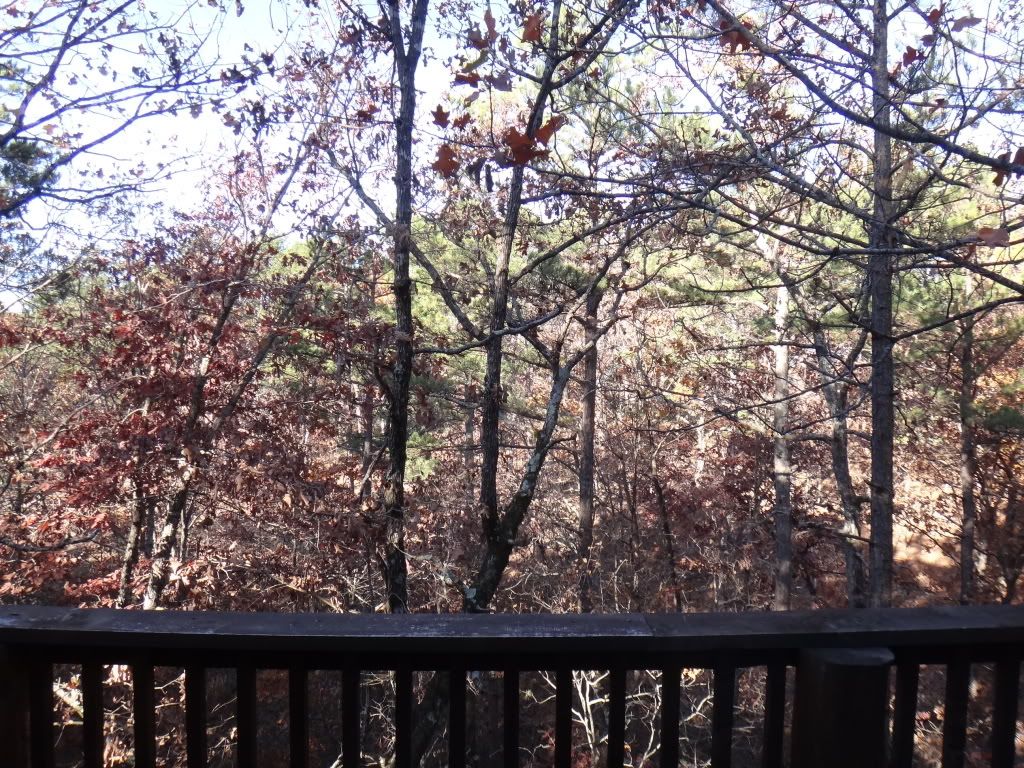 (The view from our balcony.)
The next day (Friday) we went sightseeing in Eureka Springs and we saw "
The Ghosts Have Answers
," an illusionist/medium show. It was super fun, if not world class. The performer was so nice that he actually called me twice to ensure that we knew that the location for the performance had been changed. Yes, I said the performer called me...twice.
Saturday was Max's actual birth date. In the morning we got
spa treatments
(mineral baths, steam tank, clay masks, and massages). Then we went to the Onyx Cave.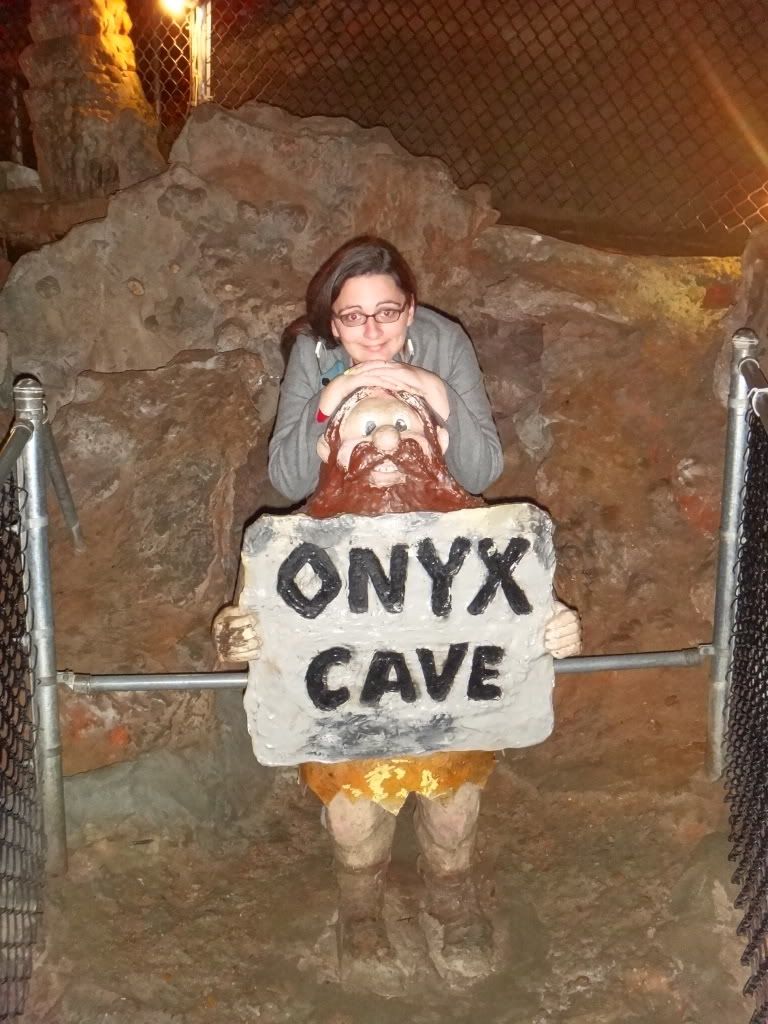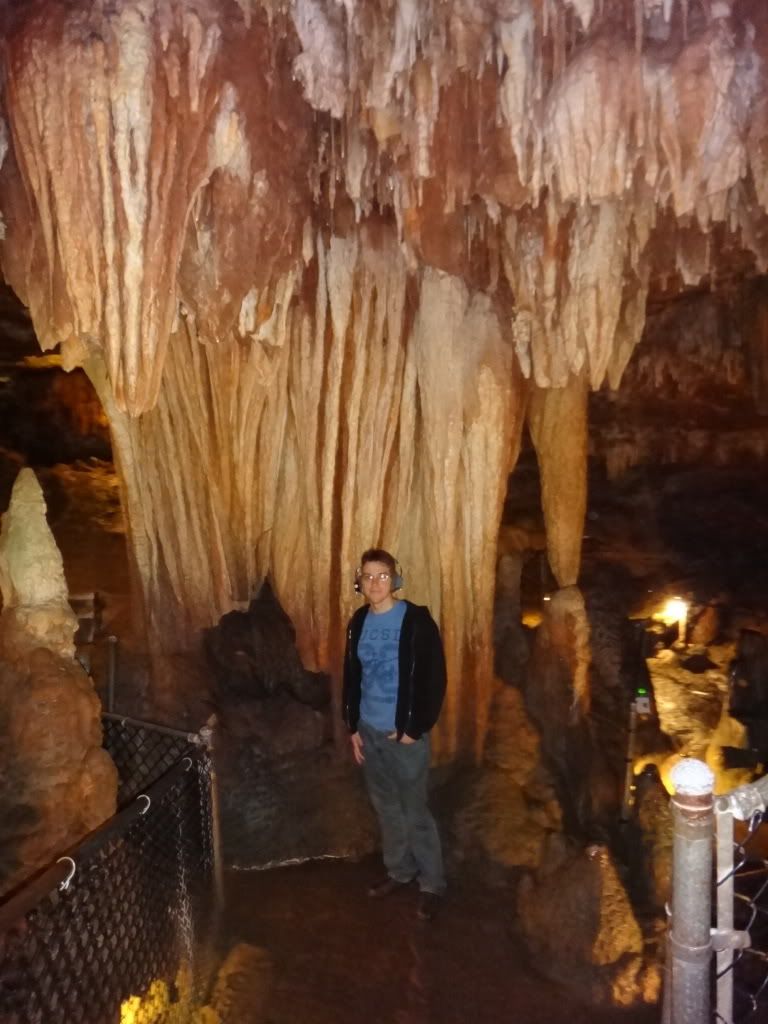 That evening we went to Rogue's Manor for dinner.
When we got there, who was there, but most of Max's family and Michelle & her family! Max was incredibly surprised. He never guessed that I had been coordinating with his mother & Michelle for months to make this happen.
(Michelle & her husband Steve.)
(Michelle & Steve's beautiful children. They were incredibly well behaved. From left, Violet, Rhys, Alisha, and James.)
(Max's mom & dad.)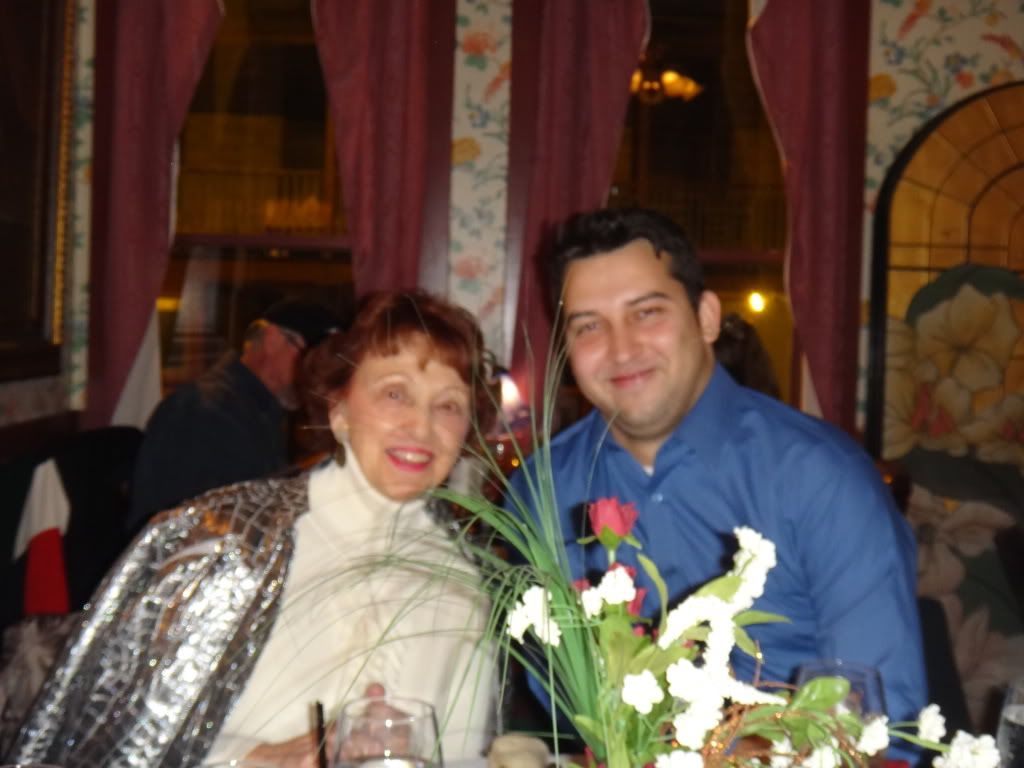 (Max's grandmother and brother.)
On the table were letters sent by various friends and family letting Max know how much they love him. Michelle was kind enough to coordinate all of that.
All-in-all we had an incredible time. Max & I have been lucky enough to have been on a number of incredible vacations in our short marriage, but for me, this one was by far the best one we've been on. If this weekend shows just a sliver of the love that I have for Max, then it was a success.
Thanks for everyone who helped me out with this weekend. I really appreciate it!